Edwardian 6 Rose Cut Diamonds Ring
£990
Heritagem presents :
This unique ring features 6 sparkly rose cut diamonds for a total weighing approximately 0,80ct. They are set on platinum and the mount is in 18kt yellow gold. The rose cut, like the briolette cut, is one of the oldest cutting styles for diamonds. It emerged in the 1500s and was extremely popular in the 1700s through the 1800s. They were always be a la mode. The gold is smooth and shiny. The diamonds presents few little chips on the girdle, otherwise, the ring is in good antique condition.
It could be easily resized, feel free to ask we will be happy to do it for you (included into the price). It is very delightful and very easy to wear. It weighs 5gr. It was controlled with the French hallmarks : the owl and the mascaron's head for 18kt gold and platinum. It was perfectly handcrafted under the Edwardian era, circa 1910 ~ 1915. This ring is a must have in our jewelry box, it is chic and very trendy !
Out of stock
Email to a friend
Description
Circa: 1910, Edwardian / Belle Epoque
Weight: 4.2gr
Metal: 18kt Gold & Platinum
Stones: Diamonds
Hallmarks: French – Owl and Mascaron
Condition: Very Good
Dimensions:
Height: 23,73mm / 0.93in
Length: 21,15mm / 0.83in
Width: 8,73mm / 0.34in
Ring size :9 / 60 / R 3-4
Related Products

Heritagem presents :
This ravishing necklace is a real testimony of the Edwardian period. It features a platinum pendant adorned with 2 ribbons and garland. It set with a rose cut diamond in its center, with 2 table cut diamonds and rose cut diamonds. The dangling diamond on the bottom is slightly included. There is an approximate total carat weight of 2ct. It was perfectly well handcrafted. The chain is made in 18kt gold and it measures 40 cm long. It is secured with a security chain. The necklace weighs 8,7gr and it is in very good antique condition. The pendant measures 38,72 (1,52) by 34,43(1,35) mm (inch). You can add a brooch pin on the back. It was made at the very beginning of the 20th century in France during the Belle Epoque (Edwardian era). The clasp is marked with the French eagle's head and it was tested as platinum for the pendant. This necklace is absolutely ravishing , it is very refined. It will enhanced any outfit of your wardrobe. If you re a lover of Belle Epoque jewellery, this one is for you. All our items come with either a gemological report or a jewellery report with circa and all useful information.
£

4,550
Read more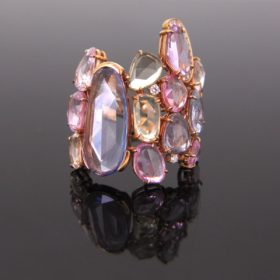 Heritagem presents : A unique Colored sapphires and diamonds ring. This one has a unique design. It is adorned with rose cut colored sapphires. Actually, the sapphire is blue but it also could have many colors. Here's we have blue, pink, green , yellow sapphires. They have a rose cut shape. It is very elegant. The ring is enhanced with 15 brilliant cut diamonds.
.
All our items comes with either a gemological report or a jewelry report with circa and all useful information.
£

5,990
Add to cart