Latest products
---
Shop our jewellery, including the latest arrivals of gold, silver, diamond studded rings, earrings, necklaces, bracelets and more…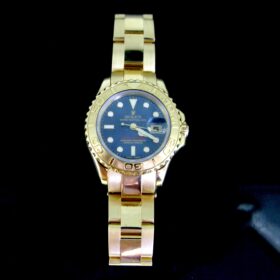 £

15,700
Heritagem presents: This Rolex Oyster Yachtmaster Lady watch is fully made in 18K yellow gold. It is in excellent condition and works perfectly. It comes with its pouch. total Weight: 90.9g Metal: 18K yellow gold Condition: Very Good Movement : Automatic Rolex Hallmarks: Rolex maker's mark / Swiss mark for 18kt gold Signature: Rolex Oyster Perpetual Date Yachtmaster 168628
Add to cart
Popular products
---
Starting with the 18th century, we go through history's most important periods of jewellery styles, their most popular pieces and motifs and the social, political, and economic climate that influenced the era's jewellery designs.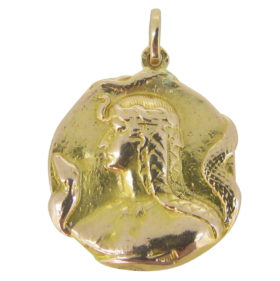 £

778
This lovely pendant is made in 18kt yellow gold. It was perfectly handcrafted and it represents the profile of the famous Egyptian queen Cleopatra. On the verso, we can clearly see the cartouche of the queen. A cartouche is an oval with a horizontal line at one end, indicating that the text enclosed is a royal name. It was made at the end of the 20th century. Cleopatra is easily recognizable : she is wearing the Egyptian crown and a snake is surrounding her. The legend said that she was bitten by a snake after she's heard her lover, Marc Antoine, died.The medal weighs 4,5gr and it measures 27,9 (1) x 19,9 (0,78) mm. The bottom of the front is a bit used, we can still see some papyrus' flower.The hinge is marked with the eagle's head and with the maker's mark R / a symbol (?) / G. The chain is not provided but we will be happy to find one for you 🙂 All our items comes with either a gemological report or a jewelry report with circa and all useful information.
Add to cart
Estate jewelry may come from any time period, however the most popular are Georgian, Early Victorian, Mid-Victorian, Late Victorian, Arts and Crafts Era, Edwardian, Art Nouveau, Art Deco, Retro..
Reviews
---
Discover our customers' reviews
Hertigems, I will be back! The medal is exactly as described, it is gorgeous. I love it! Thank you!
While it is often a challenge to buy things online, my recent experience with Camille and Stephanie at Heritagem took the pain out of the process.

First of all, the pictures they used really were worth a thousand words. I found a gorgeous pair of earrings which were lovely, but I could also asses the scale of the earrings as they were photographed in situ, as it were, on the ears of a model.

Discussing the earrings was simple via email. They were knowledgeable about their stock and helpful.

Once I purchased them, they were shipped to me in the USA using a company with an excellent tracking system so that I could see exactly where they were, and they arrived at my home quickly.

When I opened the package, I was thrilled. If anything, the earrings were nicer in person.  My husband was really impressed with my choice.

I highly recommend their stock and customer service.  They are a delightful team to deal with and I will be shopping with them again.

Cecile
A wonderful experience! They were incredibly helpful, answering all my questions and doing an amazing job resizing the ring for me. It's a stunning piece in gorgeous condition - the gold just glows. Arrived quickly, safely, and with a very handy appraisal. Thank you so much!
Exaclty as described. Fits like a glove. Will definitely ask them to keep eyes out for more Georgian items
Gorgeous earrings, early birthday present, but am already wearing them....couldn't resist!!!! These sellers are good to deal with. My first purchase from them, but doubt it will be my last! Well packaged! Very pleased!