Victorian Enamel Pearls Pansy Locket Pendant
£1,450
Heritagem presents:
This beautiful locket from the Victorian era is made 18kt yellow gold (tested). The front is adorned with navy blue enamel (small chip on the top left) and a flowery motif is the centre. It is surrounded with seed pearl. You can open it and it reveals a pansy. You can also open the back of the pendant and see the same flower, strongly linked with the remembrance. The pansies are made from brunette hair. Pansy flower refers to the French word Pensée that means "thought/remember". It was beautifully engraved.
Lockets were very trendy during the Victorian and Edwardian years; it remains nowadays because those little boxes affect our memories. Worn close to the heart, it holds our remembrances, pictures of people you love.
Please note the chain is not included
All our items comes with either a gemmological report or a jewellery report with circa and all useful information.
Out of stock
Email to a friend
Description
Weight: 12.76gr
Metal: 18kt Yellow Gold and Enamel
Stones: 26 seed pearls
Condition: Very Good (small chip on the top left of the enamel)
Dimensions: Height: 32.63mm / 1.28in (bale not included)
Length: 23.43mm / 0.92in
Related Products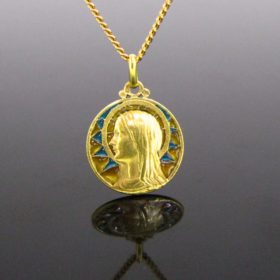 Heritagem presents: This lovely medal from the Art Nouveau period is made in 18kt yellow gold and with Plique à jour blue and orange enamel. It features the profile a young saint looking to the left. We can see the signature Sellier on the bottom right. The enamel is in very good condition. Please note that the chain is not provided. All our items comes with either a gemmological report or a jewellery report with circa and all useful information. Item ID: 7676
£

550
Add to cart