Art Nouveau "Sarah Bernhardt" Diamonds Ring
£6,100
Heritagem presents:
This incredible ring represents the famous French actress, Sarah Bernhard with long hair adorned with flowers on each side of her face and a crown. She is dressed for her role of Mélissindre, "La princesse Lointaine", a tragic play written by Edmond Rostand in 1895. This ring designed by André Rambour is very characteristic of the Art Nouveau period with its smooth and flowy lines. It features 10 rose cut and 4 single cut diamonds as well as 2 cabochon rubies in the centre of the flowers. It is beautifully made in 18kt yellow gold with some open work handcrafting.
(This ring can be resized – don't hesitate to enquire about it)
All our items come with either a gemmological report or a jewellery report with circa and all useful information.
Out of stock
Email to a friend
Description
Circa: Art Nouveau
Weight: 7.4gr
Metal: 18k Yellow Gold
Stones: 10 Rose Cut Diamonds
4 Single Cut Diamonds
2 Cabochon Rubies
Condition: Very Good
Dimensions:
• Height: 19.63mm / 0.77in
• Length: 18.36mm / 0.72in
• Width: 23.58mm / 0.92in
Ring Size: 43.5 – 46 – G ¼
Related Products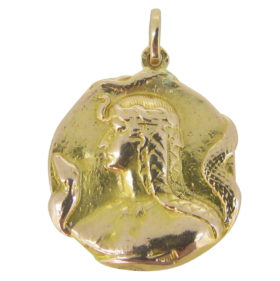 This lovely pendant is made in 18kt yellow gold. It was perfectly handcrafted and it represents the profile of the famous Egyptian queen Cleopatra. On the verso, we can clearly see the cartouche of the queen. A cartouche is an oval with a horizontal line at one end, indicating that the text enclosed is a royal name. It was made at the end of the 20th century. Cleopatra is easily recognizable : she is wearing the Egyptian crown and a snake is surrounding her. The legend said that she was bitten by a snake after she's heard her lover, Marc Antoine, died.The medal weighs 4,5gr and it measures 27,9 (1) x 19,9 (0,78) mm. The bottom of the front is a bit used, we can still see some papyrus' flower.The hinge is marked with the eagle's head and with the maker's mark R / a symbol (?) / G. The chain is not provided but we will be happy to find one for you :) All our items comes with either a gemological report or a jewelry report with circa and all useful information.
£

778
Add to cart